Anytime Fresh Baked Chocolate Chip Cookies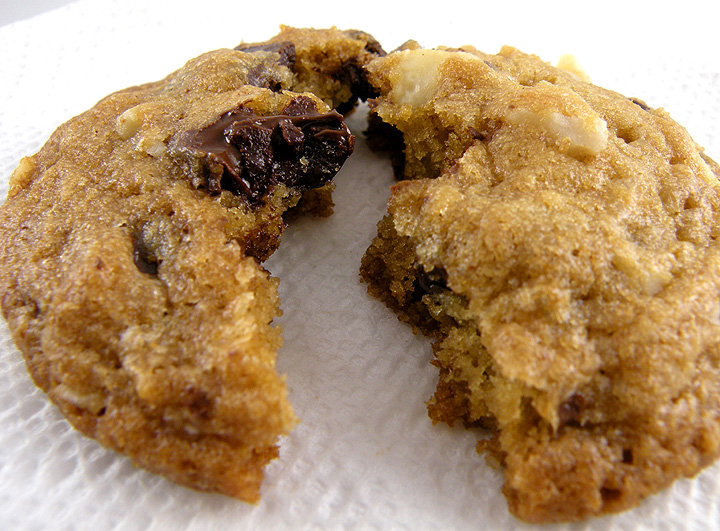 What could be more satisfying  than a fresh batch of warm, straight from the oven chocolate chip cookies with macadamia nut ? In certain circles, I am known more for my chocolate chip cookies than my designs and crafts because I love to give my signature cookies, still warm with the chocolate melted. Here is my trick to always have fresh baked homemade cookies on short notice.
Next time you make a batch of your favorite cookies, form them into the correct size on a cookie sheet lined with baking parchment paper. Place the tray of cookies in the freezer for about an hour or as long as they take to set into a firm frozen state. Take them off the cookie sheet and put them in a zipper plastic bag so they are not touching. Keep them in the freezer until you are ready to bake them.
Follow the baking directions for the type of cookie you wish to bake—preheat the oven to the temperature required by the recipe and place a piece of baking parchment paper on a cookie sheet. Arrange the cookies on the parchment paper according the spacing required by the recipe and put them in the oven frozen.
There is no need to thaw them out. Just add about two minutes to the cooking time and they will taste as if you just mixed the batter that day. You will amaze your friends and family and they will ask you how you find the time to always have fresh homemade cookies.
Don't forget to share your cookies to warm up the dreary January days. Give them to friends, family, coworkers and teachers and watch their face light up as the take their first bite into a warm, fresh from the oven cookie. I like to put them into these cute little cookie bags so they can see what yummy treat awaits them. You can find the bags at any local craft store.