Homemade Barbecue Sauce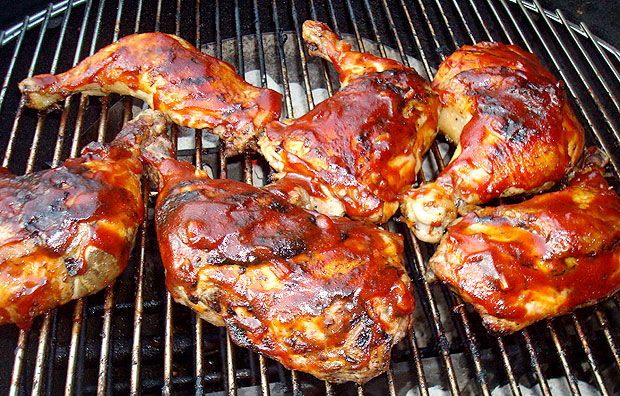 For the Fourth of July I thought it would be fun to make some of my own barbeque sauce for my charcoal grilled barbecue chicken. I used to make it all the time following a Bourbon Barbeque Sauce recipe from Bon Appetite. Now that I have children, I have since altered the recipe, omitting the bourbon and making it a little sweeter and less spicy…perfect for children's palette. I also added some sautéed onions and garlic to add more flavor and texture.
Homemade barbeque sauce is so easy to make and can be stored up to a week in the refrigerator. It is so delicious, I don't know why I don't make it more often.
Ingredients
2 cups ketchup
½ cup  Grandma's Original Molasses
¼ cup Dijon mustard
1/3Â cup minced onions
1 garlic clove minced
1 tablespoon olive oil
2 tablespoons Worcestershire sauce
2 teaspoons Paprika
1 teaspoon garlic powder
1 teaspoon onion powder
1 teaspoon sugar
½ teaspoon hot pepper sauce
Directions
Step 1: Add 1 tablespoon of olive oil into a large sauce pan and sauté the garlic and onions over medium heat until soft.
Step 2: Add the remaining ingredients and stir to combine.
Step 3: Bring to a boil over a medium heat then reduce the heat and simmer for about 15 minutes.
Step 4: Continue to stir so the sauce doesn't burn. The flavors will meld together and the sauce will thicken.
Let cool before using. It can be made up to a week ahead of time so it will be one less thing to do if you having a barbecue party.