Happy Earth Day!
In honor of Earth Day, I thought I would share some of my reuse projects. As many of you may already know about my style, I love to  reuse and recreate things normally discarded into something useful and unexpected.
I think that the charm of a project made with reused items is that it invites you to take a second look and makes you think about how it was created.
Earth Day Crafts
Milk Carton Vases
There are so many beautiful and useful things you can create with stuff you probably already have around your house like these milk carton vases. I think they look super cute and I don't think anyone would know what they once were unless you told them.
Click Here to Learn How to Make These Milk Carton Vases
Indoor Herb Garden
I like to have a small indoor herb garden in the kitchen for easy access when cooking and it also adds a nice decoration to the counter top  Here is an idea I created for my indoor herb garden made from reused tomato cans and chalkboard garden markers I made.
Click Here to Learn How to Make an Indoor Herb Garden
Water Bottle Flowers
I made these whimsical flowers from water bottles and plastic containers. These are so much fun, they would brighten any room especially a little girl's bedroom. This beautiful arrangement would also make a great gift!
Learn How to Make Water Bottle Flowers
Handmade Seeded Paper
I created seeded paper made from junk mail, scraps of paper and natural elements. I embedded flower petals, leaves and flower seeds into each page. It is so versatile that it can be used for note cards, birthday cards or anything else where you want to use natural paper. This is the ultimate in reuse project. It transforms waste paper into something beautiful that can be recycled again by planting it in the ground…that is if you want to part with this beautiful paper.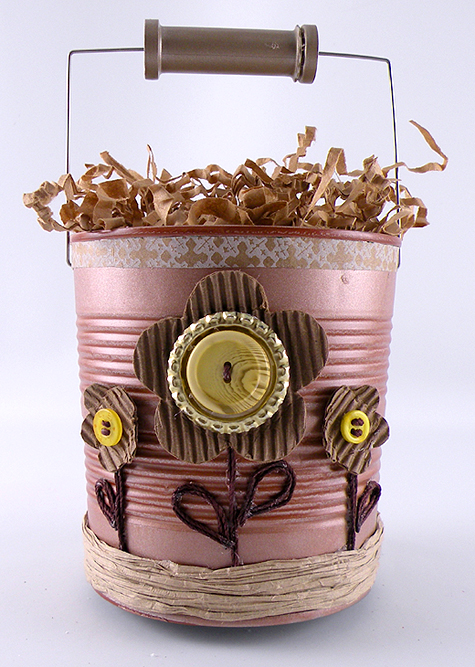 I created this flower pail with repurposed and recycled items from around the house. This design has style that I could not have achieved if I had bought all the materials from the craft store. The finished product can be used to hold flowers or for small items. You could also add some shredded paper and use it instead of a gift bag.
Aluminum Foil Box
Here are some of my Earth Day projects created from household items and repurposed materials. I always love showing how to create fun and beautiful crafts out of items that are usually discarded and thought of as trash.
More Reuse Designs From My Blog