DIY Father's Day Gift Bag Idea (Using Spare Computer Parts)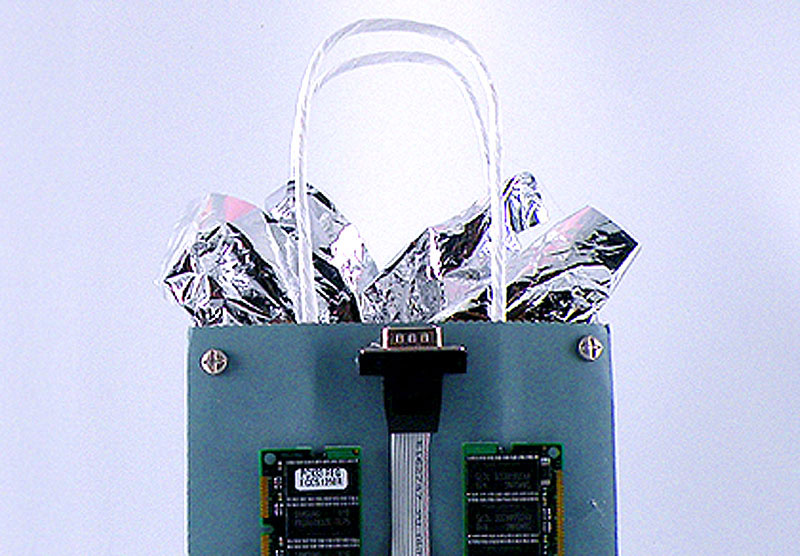 Here is a fun DIY Father's Day gift bag idea for the techie dad. This would be great for a Father's Day gift wrap or a Father's Day gift basket ideas DIY.
As some of you may already know, I am truly a geek. I was a network engineer and technical consultant for years installing file servers, firewalls and computer systems in the DC area. So when I thought about making a techie Father's Day gift bag idea, I just looked through my spare parts box came up with this idea for the computer geek dad in your life.
I think that a gift bag, decorated with memory cards and computer hardware would make a more interesting gift bag than the traditional tie gift wrap. It's more fun to have a gift wrap design or gift bag that is unique custom made for the techie dad that he can appreciate.
I purchased a plain gift bag with a greenish hue from the craft store and used a hot glue gun to attach RAM and a serial port to the front of the bag. I also glued rivets to the corners to give it more of a mechanical look.
You can use any type of computer component to create this bag. Dissect old broken computers and grab the memory, ribbon cables or even video cards that are antiquated or will not be used. You don't have to know anything about the computer parts, just pick what looks cool to create your techie gift bag.
Click here to watch my Father's Day TV segment showing how to make the Techie Gift Bag.
/div>