Easy Ham and Cheese Quiche Cups Recipe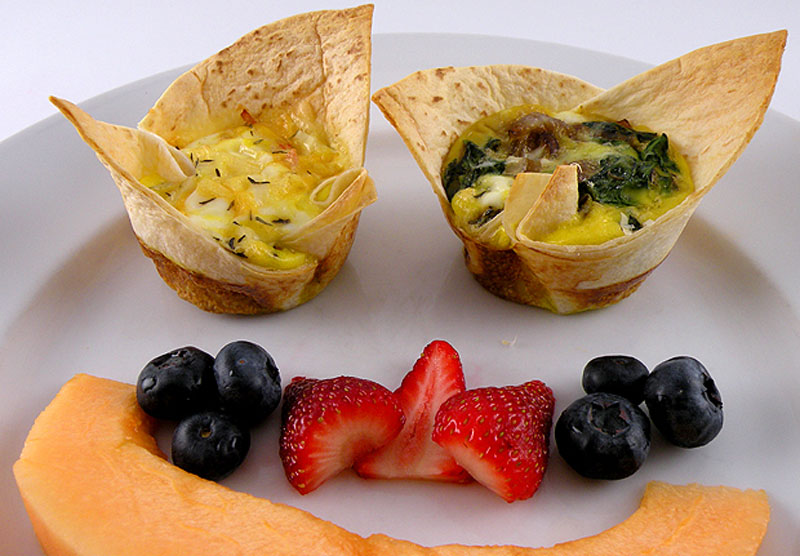 Every Sunday morning in my house I make brunch. It can vary from scrambled eggs and pancakes to omelets and yogurt parfaits. My menu usually includes amazing maple turkey and applewood smoked bacon from the Amish Market. Sometimes I get in the mood to be creative and make a new recipe to spice things up. This past Sunday, I decided to put a spin on a traditional quiche and make quiche cups in a cupcake pan lined with flour tortillas. They came out delicious — the tortilla became crispy and brown and the eggs and cheese melded together in total harmony. The beauty of this incredible breakfast delight is that I didn't need to use a fork — it can be picked up and enjoyed without any mess. The leftovers heated up very well for a yummy Monday breakfast. These would also be great to serve at a party or a special brunch.
Here is my Recipe for my Quiches Cups
Ingredients
6 eggs

1/4 cup milk
1/4 t salt
1/8 t dried thyme
3 large flour tortillas
Cupcake or muffin pan
For the Spinach, Mushroom, Onion and Tomato Quiche
1 tablespoon olive oil
1/2 medium onion
1/2 cup fresh chopped spinach
1/4 cup sliced mushrooms
6 grape tomatoes sliced in half
Parmigiano Reggiano cheese (my favorite cheese in the whole world)
For the Ham and Cheddar Cheese Quiche Cups

Directions for the Quiche Cups

Step 1: Add 1 T olive oil in a saute pan and cook the onions and mushrooms over medium heat until  lightly browned and soft.
Step 2: Add the chopped spinach and tomatoes and saute until the spinach is wilted. Add sea salt to taste and remove it from the heat.
 Step 3: Cut tortillas into 4 equal parts.
Step  4: Fit the tortilla pieces into the muffin cups.
Step 5: Whisk the eggs, milk, salt, white pepper and thyme together in a glass measuring cup.
Step 6: Fill the tortillas with the ham and cheese mixture for half of the cups and the spinach, onion, mushroom mixture for the other half.
Step 7: Pour the eggs into the cups until they are about 3/4 full.
Step 8: Grate Parmigiano Reggiano over the spinach quiches.
Step 9: Bake in a preheated 350 degree oven for about 15 minutes or until golden brown, rotating the pan halfway through so they cook evenly.
Step 10:Â  Serve the quiche cups warm or at room temperature. Enjoy!