5 Creative Gift Wrapping Ideas (How to Accent with Yarn)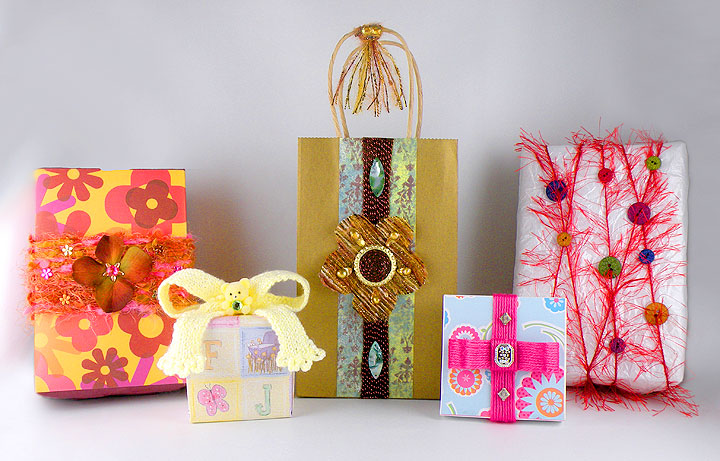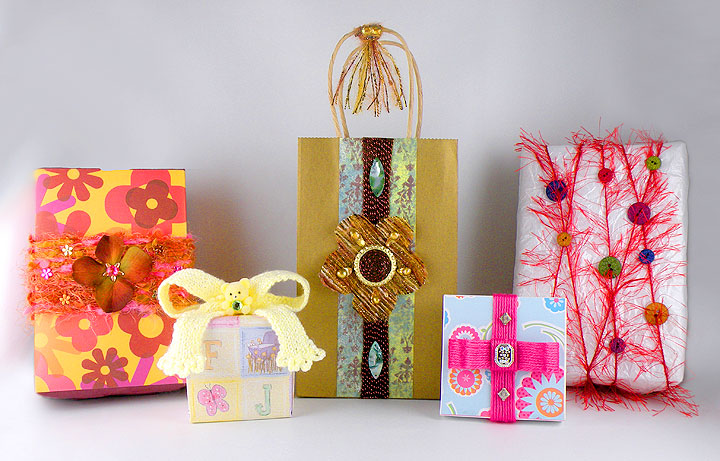 I have always enjoyed gift wrapping ideas with unexpected elements — using yarn instead of ribbon to decorate gifts is a nice way to wrap a present for all occasions. Gifts accented with yarn not only create beautiful and unique designs but also add a unique flair that is sure to impress. It would be an especially nice touch if the recipient likes to knit or crochet. Here are some of my easy to create gift wrapping ideas and designs using different types of beautiful yarn. For more creative gift wrapping ideas please check out my gift wrapping site www.GiftDecorating.com.
DIY Yarn Bow
This gift design is easy to create. The lid of a jewelry box is decorated with scrapbooking paper and yarn to create a reusable box. Adding a yarn bow to a gift will amaze people and leave them wondering how it was made. The secret is packing tape! Just add strands of yarn to the sticky side of the packing tape to create a yarn ribbon. Click here to learn how to create this design.
Yarn Wrap
Here is a quick way to wrap a pretty gift with things you have on hand. A band of yarn wrapped around the box add interest to a present. This present was wrapping with reused tissue and a piece of coordinating scrapbooking paper. I attached a silk flower and rhinestones to accent the gift. This gift took less than 10 minutes to create. Look around your house, you will find all sorts of treasures you can use to adorn a gift. Click here to learn how to make this design.
Baby Shower Gift Wrapping Ideas
A knitted bow adds a heartwarming touch to a gift. It especially looks nice on a baby gift because of the soft baby yarn. This is a perfect project for a person who is just beginning to knit and also is a great use for leftover yarn from baby blankets, hats and booties. This would make a great gift for the expectant mother for Mother's Day. Click here to learn how to make this design.
Yarn and Button Gift Wrapping Ideas
This inexpensive kraft bag is accented with different types of yarn to create an elegant and sophisticated gift bag. Household items such as a bottle cap and packing tape are layered with yarn to create the flower and yarn ribbon.
Yarn and Extra Button Gift Wrap
Use extra buttons to create a fun, whimsical gift wrap design.  This gift is wrapped in reused double-layered crinkled tissue paper.  The buttons are threaded onto textured yarn and wound around the box in a random pattern.  The yarn is tied in a double knot on the back of the box to secure it. You can also attach the buttons to the gift with craft glue.