Beautiful DIY Necklace Holder (Necklace Storage Ideas)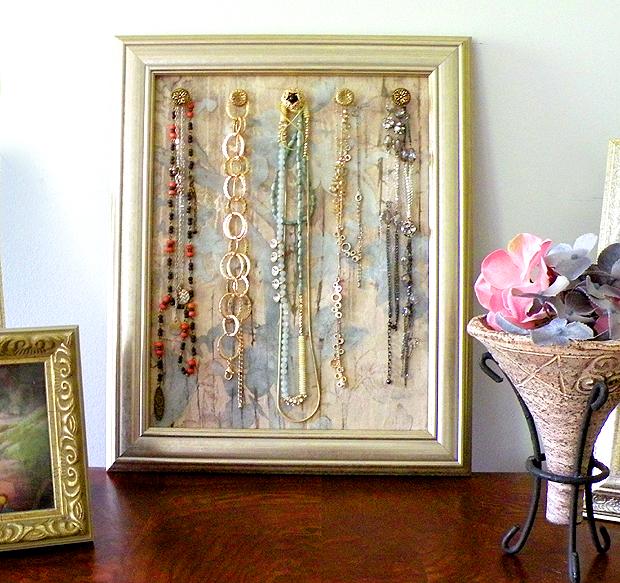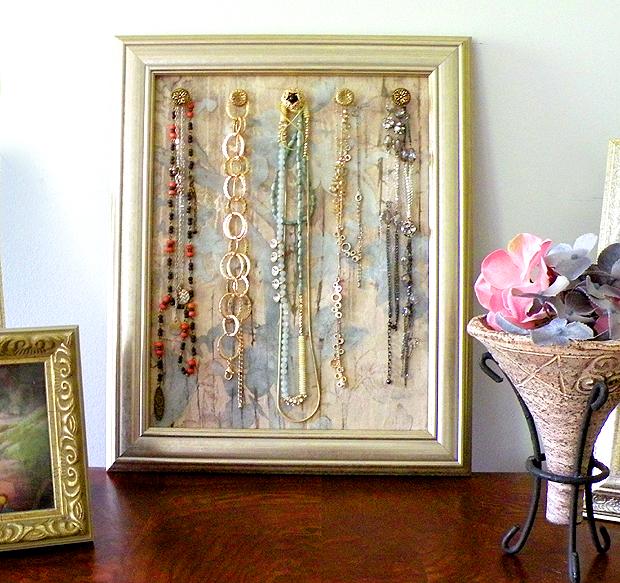 Learn how to create a beautiful DIY Necklace Holder a perfect necklace storage idea. I love the look of long, layered necklace. They can dress up and add style to almost every outfit. Unfortunately, I have never had a very good way of storing them. I would hang them over candle holders, picture frames or put them back in the jewelry box only to find them tangled and intertwined with other necklaces when I wanted to wear them. I came up with this idea of a DIY necklace holder to solve this frustrating problem. The finished product turned out beautifully because it actually looks like a piece of framed art or a pretty accent piece in a room. This would also make a great Mother's Day gift!
Materials
Artist Canvas (stretched art canvas over a wooden frame)
Decorator Fabric
Push Pins
Buttons
Metal File
Craft Glue
How to Make a DIY Necklace Holder
Step 1: Measure the fabric to the size of the Artist Canvas plus enough extra to wrap around the sides and inner edge of the board.
Step 2: Use craft glue to attach the fabric to the artist canvas. Glue the fabric to the inside edge on one side of the wooden frame first to secure. Work in small sections, smoothing the fabric with your hands to make sure it is attached to the canvas.
Step 3: Trim the inside edge of the fabric so it fits nicely on the inside corners of the frame  and to remove the bulky excess.
Step 4:Â Fold the ends of the fabric up and over the edge of the frame and glue.
Step 4: Trim the remaining excess fabric the length to fit to the inside edge of the frame. Turn the ends of the fabric up and over the frame and glue.
Step 5: Cut off the loop of the button with scissors or a wire cutter.
Step 6: File the remaining piece of the loop flat with a metal file.
Step 7: Attach the button to the top of a push pin with craft glue and let dry.
Step 8: Push the button covered push pins, evenly spaced, into the wooden part of the frame.
Step 9: Remove the glass and cardboard backing from the frame and fit the necklace hanger into the frame.
Step 10: Add glue to the inside edges of the frame to lock everything in place. The canvas board can also be wedged into the frame to secure it. The push pins can be easily removed to add more hangers.
The finished product can sit on a dresser leaned up against a wall like I did or hung up like a picture. Be creative and choose different fabrics, buttons and frame colors to match your decor. You can ever make some smaller versions to hold bracelets or keys. This would also be a nice addition to a walk-in closet.