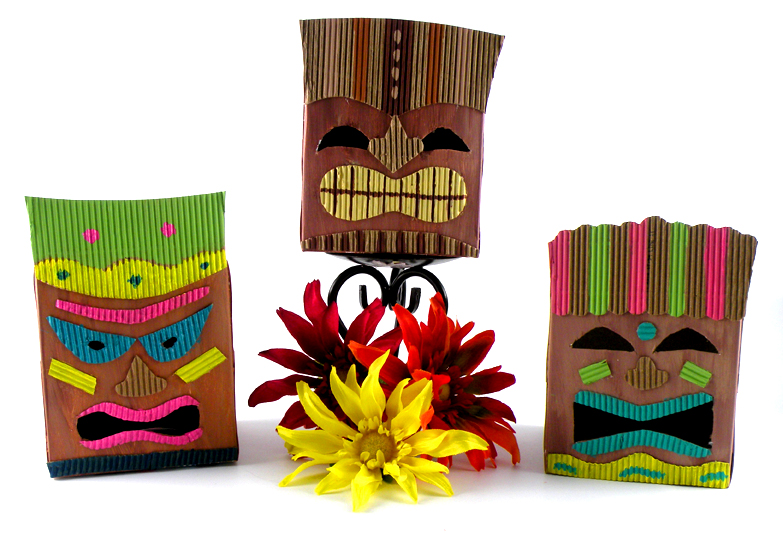 I always tell everyone to save your tissue boxes. These sturdy boxes that would normally be tossed into the recycle bin can be transformed into fun and unique party decorations. The tiki faces shown were created from my reused stash of tissue boxes, coffee sleeves and leftover acrylic paint. You can either place the opening of the tissue box on the bottom of the tiki face so battery operated tea lights can be placed inside to illuminate the face or keep the opening on top so it can be used as a vase for fabric tropical flowers. I had all of the materials I used for this project on hand so it didn't cost me a thing to create these fun guys.
Materials
Empty Tissue Boxes
Coffee Sleeves
Acrylic paint in brown and bright colors
Sponge Brush
Small paint brush
Craft Glue
Removable Double-Sided Tape
Small scissors
X-Acto knife
Download Tiki Face Patterns:
 Tiki Face 1            Tiki Face 2                Tiki Face 3
Instructions
Peel off the plastic liner around the opening of the tissue box.
Place the tiki face pattern on the front of the tissue box and secure with removable double-sided tape.
Use and X-Acto knife and scissors to cut out the eyes and mouth of the faces as shown above.

Remove the pattern and paint the boxes with brown tone paints. Mix the different colors of brown on the brush to give it a washed look. You may need to add a few coats of paint to cover the pattern on the tissue box.
Cut the facial features out of the face pattern and use them as a template to cut them out of the coffee sleeves.
Glue the facial features to the front of the boxes, corrugated side facing out.
Using the small brush, paint the front of the tiki faces with bold colored paints.